Ermaksan
Check out more Ermaksan videos here!
Ermak
ERMAKSAN has been producing sheet metal fabricating machines for over 50 years and now is among the leading companies in the World which is proudly empowering its customers with high tech and durable machines. With over 1 million square feet of manufacturing, they ship to over 110 countries.
Press Brakes
MICRO-BEND

44 Ton x 40"
Y1/Y2/X
Low invesment cost.
Minimum space requirement with compact design
Delem DA-58T Color LCD Screen, 15"
Quick Release Punch Clamps
Laser Finger Guard
Precision Tooling Included
Fast & Accurate (+/- .0004")

POWER-BEND SEATER

66 Ton x 50"
4-Axis CNC with Work Table
Can Sit or Stand
Adjustable Control Arm
Delem DA-58T Control
17" O.H. & 11" Stroke
Tooling Included.




POWER BEND FALCON

44 to 440 Ton
Y1/Y2/X/R/CNC Crowning
Quick Release Punch Clamps
Delem DA-58T Color LCD Screen, 15"
Laser Finger Guard
Precision Tooling Included
Fast & Accurate (+/- .0004")

The Power Bend Falcon Package comes with Y1/Y2/X/R/CNC crowning, AKAS laser finger guard, sheet supports and tooling.
A great package at a great price!
SPEED-BEND - Synchronized Hydraulic Press Brake

Production time is the most important factor in maximizing profit in enterprises.
The Speed-Bend series is designed to enable speed and high quality production capability in order to decrease time per unit costs.

44 to 1,650 Tons
Y1/Y2/X/R/Z1/Z2/CNC Crowning
Delem DA-66T Control w/ 17" High Resolution Screen
Quick Release Punch Clamps
Precision Tooling Included
Laser Finger Guard
Sheet Support Arms
Rear Light Curtain
Fast & Accurate (+/- .0004")

Green Press Fx Servo

Electric Belt Drive
X/Y/R/Z1/Z2 Axis
69% Energy Savings
Full Length Bending
19" O.H. & 12" Stroke
Even Pressure - No Need for Crowning
Laser Finger Guard & Precision Tooling

EVOLUTION III Hybrid Press Brake
121 to 275 Tons
Demand for Economical Machines is increasing due to rising Global energy prices.

With this in mind, Ermaksan has used its 30 years' experience in press brake manufacturing to present to you, the new generation Evolution II hybrid press brake series with less energy usage and more power.

Fast-Quiet-Energy Efficient-Accurate
+/- .0003 Degree Accuracy
65% Less Energy
95% Less Hydraulic Oil (Less than 5 Gallons!)
Hydraulics Only Run When You Step on the Pedal

Shears
HGD - Hydraulic Swing Beam Shear - 1/4" to 3/4"

A great solution for excellent standard equipment at a great price!

40" Powered Back Gauge
14" Throat
40" Squaring Arm
(2) 40" Support Arms
Hydraulic Blade Gap Adjust
Rear Light Barrier

CNC HVR - Variable Rake Hydraulic Guillotine Shear - 1/4" - 1-1/2"

Excellent cut, perfect speed.
By choosing the new and improved CNC HVR, you will bring modern-day technology to your company with maximum safety, high accuracy and unique ease of use.

Blade gap, cutting angle cut width and cutting length are all adjusted based on material selection and thickness automatically.

Cybelec DNC60 Shear Control

Controls:

Hydraulic Blade Gap
Rake Angle
Cut length
Cut Depth
Ermak Fibermak Fiber Optic Lasers
The best laser value on the market! Ermak builds a wide range of fiber optic lasers to meet every need and every budget.
They use the world's best components such as IPG generators, Precitec cutting heads, Beckhoff controls, Lantek software, etc. These machines are loaded with features!
-From 5' x 10' to 10' x 60' with 2 Shuttle Tables (World's Largest!)
-From 2 KW to 10 KW Power
-2.5 and 4G Accelleration Models Available

Models Available:
-Dual Shuttles
-Single Table
-End Load
-Side Load
-Bevel Heads
-Tube/Pipe Attachments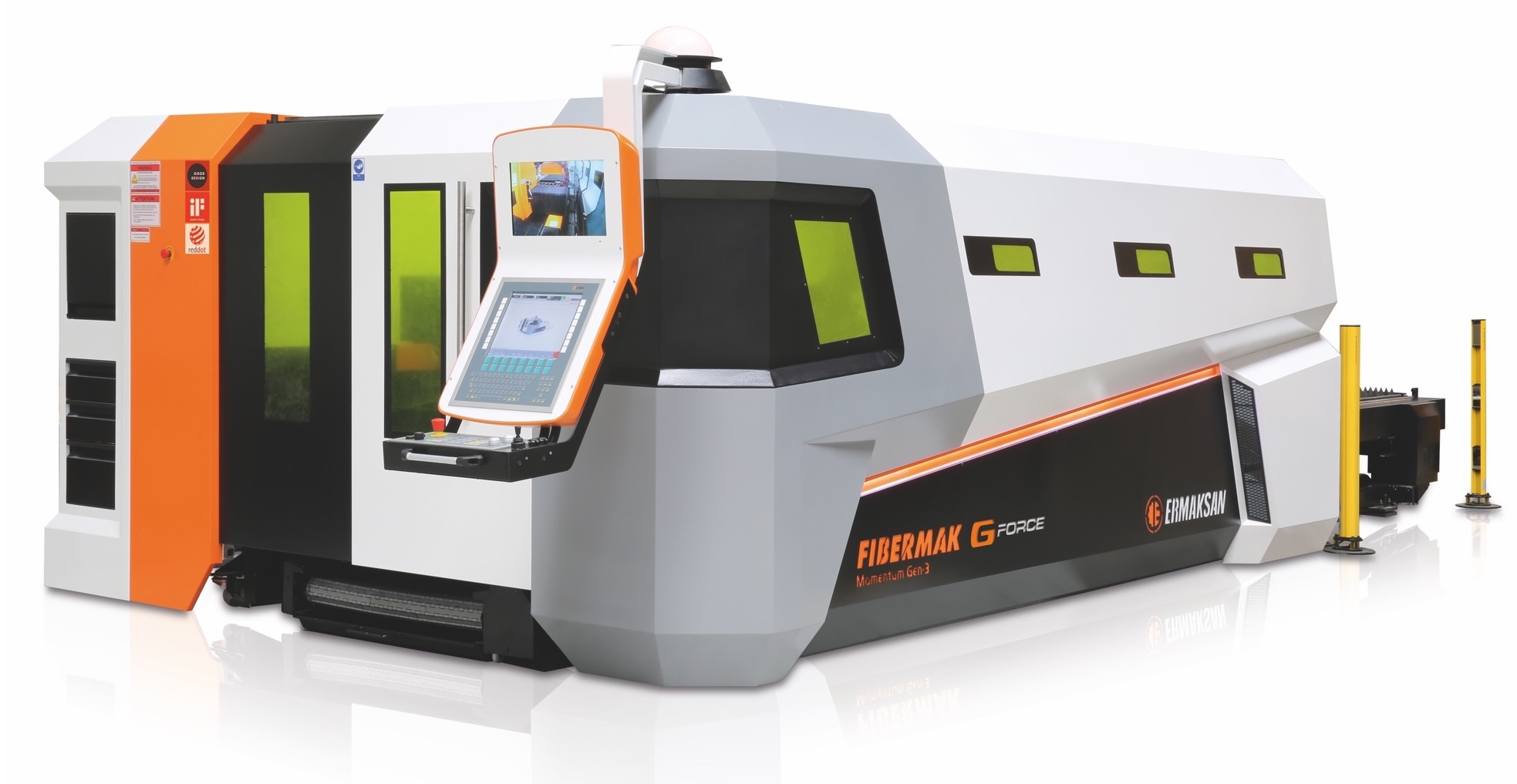 Scrap & Small Parts Conveyor Lantek Expert CAD/CAM Software Precitec Procutter Head Dust Collector Included Beckhoff Control w/ Live Hi-Def TV
Fibermak SL G-Force Fiber Laser


-Compact side load
-30% space savings
-From 4' x 8' to 8.5' x 26'
-From 2 KW to 10 KW
-All the same features as the End Load G-Force

Fibermak Raptor

-Modular & Ergonomic Design
-4' x 8' & 5' x 10' Models
-Dual Shuttle Tables
-Conveyor for small parts and scrap
-Pro Cutter head, Auto focus
-1 G Accelleration
-2 KW, 3 KW, & 4 KW available

Fibermak Hawk

-Compact Single Table Design
-4' x 8' & 5' x 10" Available
-Pro Cutter Light Head, Auto Focus
-Front and Full Length Side Doors for Great Table Access
-1 G Accelleration
-1 KW & 2 KW Available
-Up to 5/8" MS, 5/16" SS & 1/4" AL