Setting the Standard for American-Made Metal Fabrication Equipment
Press Brakes
One of the true advantages of the Standard drive system is our ability to provide full tonnage across the bed and ram and not create excessive side loads. This is accomplished because all forces are vertical above the ram centerline and are fully contained within the extremely heavy duty "box" structure. This structure houses the drive system and our impressive 3 point ram guidance/gibbing system.
The front to back forces are controlled with our precision machined set of "ways" combined with extremely heavy duty slides. These ways and guides are located both front and back of the ram and at both ends of the ram. The third set of gibbs is our innovative and very formidable center thrust gibb. This impressive gibbing system is self-aligning and requires no operator action during ram alignment. All three sets of gibbs control the front to back and left to right forces providing the precision +, -.001" ram repeatability.
| | |
| --- | --- |
| AB 250 | AB 400 |
OUR BRAKES ARE SPECIFICALLY DESIGNED FOR THE FOLLOWING APPLICATIONS:
FULL LENGTH BENDS - where full tonnage across the bed is required for the truest bends
OFF-CENTER LOADING - especially when needing substantial tonnage near the ends of the brake
CENTER LOADING - when any amount of tonnage is required in the center or anywhere across the bed
MULTIPLE DIE SET-UPS - across the bed that require the same or varying amounts of tonnage
PUNCHING APPLICATIONS - great for punching alone or combined with forming
SHORT PIECE WORK - with some of the fastest ram speeds, you small piece work is done quickly easy with precision
| | |
| --- | --- |
| The single horizontal cylinder creates full tonnage across the ram via the massive bellcrank linkage system. Inboard pivot points more evenly distribute tonnage which in most cases lessens the need for adjustable crown die holders. | |
---
Shears
The most precision shearing system available, made in the USA with unmatched warranty, service and parts availability.
State of the art controls giving the ability to manage all aspects of shearing including gap adjustment, rake adjustment, stroke length, gauge depth, job programmability plus much more.
Standard features include our unmatched 5 year parts/ 1 year CNC and 5 year limited on-site labor warranty.
Off the shelf, non-proprietary components means no more over-priced, single source buying from one manufacturer.
With service all over the United States and multiple parts sources all over the world, you will never again have to wonder where your support is coming from.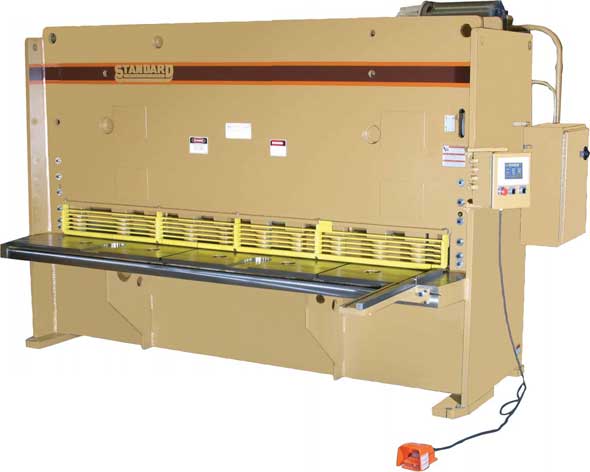 A66o bronze bearings guaranteed for 5 years based on 24 hour workday. These bearings easily last 15-20 years and the bronze material is always readily available.

Extremely heavy-duty hold downs. Fewer hold downs =less maintenance. Hold down pressure is adjustable for your sensitive material.

Extremely heavy duty, precision tables designed to provide the least amount of deflection and to last generations.

Incredibly strong gusseted table providing decades of reliable performance.

80,000 P.S.I. Rated Steel Capacity.
Shadow light for precise shearing line.
Incredibly simple, easy to troubleshoot hydraulic system is fully covered by our 5 year warranty and is comprised of all readily available components.
---
Siemens CNC control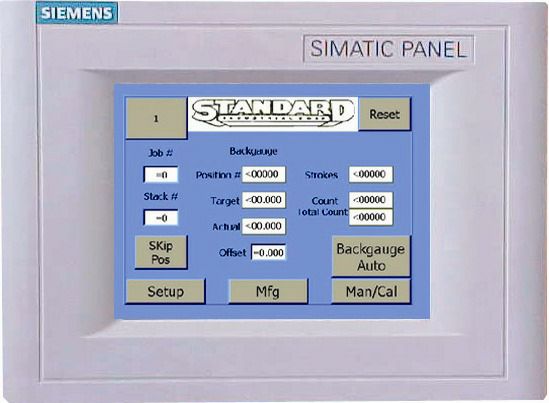 Automatically sets power blade gap** and variable rake** to desired material thickness (**when included w/machine)
Off the shelf control, available anywhere in the world
Controls backgauge travel
Programmable stroke length
200 programmable jobs with automatic actuation to next desired depth/job
Programmable X-retract
Simple Go-To functions with manual controls as well as CNC functions.
Available with wireless programming through RF link
---
36" or 48" Travel EXTREMELY Heavy Duty Backgauge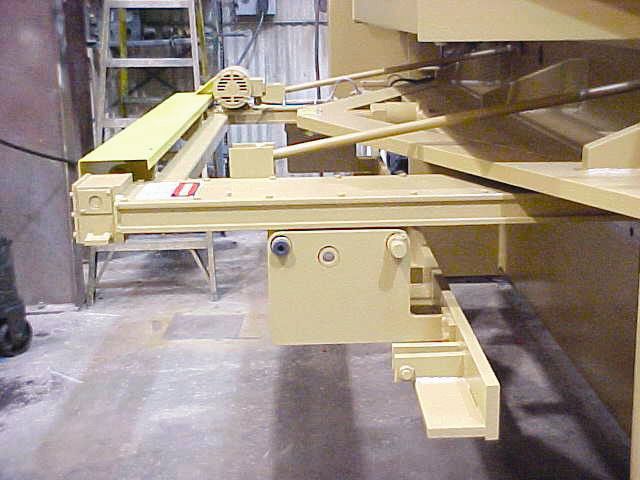 No other backgauge comes close to the rigidity coupled with the brute strength of the Standard Industrial shear backgauge. Perfectly built for precision and outright ability to take abuse.
Equipped with a manual easy swingaway backstop
Available with optional power swingaway backstop
Clear area under backgauge for support equipment
5 years parts warranty
Complete O.S.H.A. compliance
The absolute heaviest backgauge on the market
---
Single Horizontal Cylinder: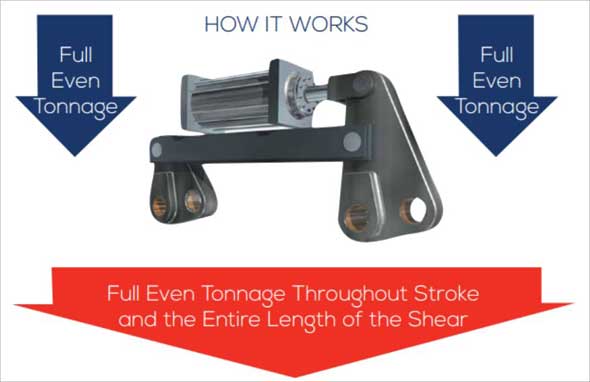 The single cylinder horizontal cylinder creates full tonnage via the massive bellcrank linkage system. Powered by just one cylinder, the bellcrank linkage supplies full tonnage the entire length of the shear. On each end of the shear ram is an incredibly heavy-duty and precision-machined tapered gibb system. This gibb system controls all front to back and left to right forces to provide the most precision cut available.
With only one cylinder you do not have to worry about "balancing" two cylinders and creating un-even tonnage and distortion in the cut. One cylinder creates full tonnage the entire cut instead of multiple cylinders creating various amounts of force.
---
Presses
Model AP Four Column Press

The #1 Choice for Prototype Shops in Michigan!

Hydraulic system with continuous filtration
Massive welded frame
Large chromed columns
T-slots in bed and ram
Permanently mounted electric heaters for column maintenance
Oil Cooler
Adjustable shaft packing
Heavy guide bearings
Adjustable tonnage control
Adjustable ran travel
Portable 2 hand control station

C-Frame Presses

Self contained hydraulic system with oil cooler and filter
Full length EIGHT way ram guides
T-slots in the bed and ram
Two hand control station
A counterbalance valve for punching and a decompression system for bottoming applications are standard equipment on all Standard Industrial Presses
Machine tool quality direct hydraulic cylinder
Box type ram
Adjustable shaft packing
Tonnage control
Completely adjustable open height, stroke and speed change point
Extremely heavy duty welded frames

Model DC400 C-Frame Press

The model DC C-frame press is one of the most versatile presses Standard Industrial manufactures. It is designed to accept off-center and center loads as well as progressive die set ups for smaller bed applications. The DC is available in tonnages up to 600 tons and can be used for metalworking, plastics, fabrics and many other materials. Virtually any type of press application can be accomplished on a DC style press.